10 Best Free Apps to Convert Pictures to Text (Cell phone & Desktop)
Many a times, you come across situations when you need to extract text from an image. Maybe you have seen a poster on social media with amazing text or you want to edit text in a PDF or handwritten image file.
In either scenario, all you need is a credible app to convert picture to text. Luckily, the internet is full of tools and methods that allow you to OCR an image file. As always, we have handpicked the best options for you that require basic-level expertise to get started.
Let's find out!
Part 1: OCR Cell Phone
Here are several top-ranked apps to convert picture to text on your smartphone.
1. Live Text (iOS)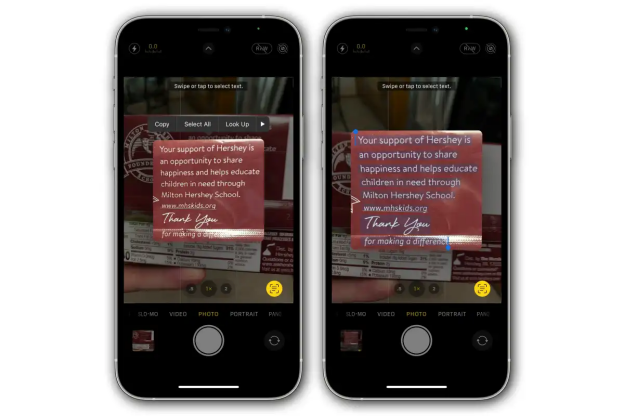 If you're an iPhone user, then getting text from image is on your fingertips. All the iPhones running on iOS 15 or later have the built-in Live Text feature that automatically recognizes information within your photos and online images.
All you need to do is open the image containing the text and tap the Live Text icon at the bottom-right corner. It will instantly highlight the editable text for you. You can copy this text and paste it anywhere for editing.
In addition, Live Text gives you multiple options to use the extracted text in mail, make a call, search it online, or translate it. This makes it one of the easiest ways to OCR cell phone in 2023.
2. Office Lens (iOS & Android)
Also known as Microsoft Lens, this text scanner app takes just a few seconds to extract text from your image files. You can directly take a picture from your phone's camera or import images that are already on your phone's gallery.
Remember that Office Lens can OCR a handwritten text for English language only.
3. Google Keep (iOS & Android)
With over 1 billion downloads on the Google Play Store and App Store, this powerful app has all you need to OCR an image. The primary function of this software is making notes. Using its built-in OCR feature, you can quickly extract text from images and make notes.
Since it is a free OCR cell phone app, don't expect super-high accuracy of your extracted text.
4. Adobe Scan (iOS & Android)
The name Adobe needs no introduction in the world of editing and scanning. Available for both Android and iOS, this remarkable image to text app can quickly process and convert images into PDF. Then, you can use other PDF converter tools to edit these files.
Unsurprisingly, it uses advanced AI to give you accurate results. But the fact that it doesn't directly convert image into text is a deal-breaker for many users.
5. Text Fairy (Android)
Another free app that claims to perform OCR for Android quickly and effortlessly. Not only it allows you to extract text from images, but also edit, save, or export it as PDF. The program might take extra time to scan and convert your image to text, but you get satisfactory results in terms of accuracy.
Part 2: Text Scanner App PC
Converting an image to text on your PC offers more accuracy. Check out the below image to text apps for your desktop.
1. PDNob Image Translator
PDNob Image Translator is a professional picture to text converter that empowers users to extract text from a scanned picture conveniently. What sets it apart from other tools is its ability to convert any scanned image in premium-grade accuracy.
Since this tool involves taking screenshot of the image file for OCR, you can extract text from up to 100 images in one go. One key feature of PDNob Image to Text Converter is it supports all popular languages.
No matter if the text is in Chinese, Korean, Russian, or any other language, it takes just a few seconds to OCR it for you. After that, you can also convert the extracted text into English or your preferred language. This makes it a one-stop solution to extract and translate text from images, making it the best OCR for Chinese or Korean in 2023.
Here's how to use this program:
2. Microsoft OneNote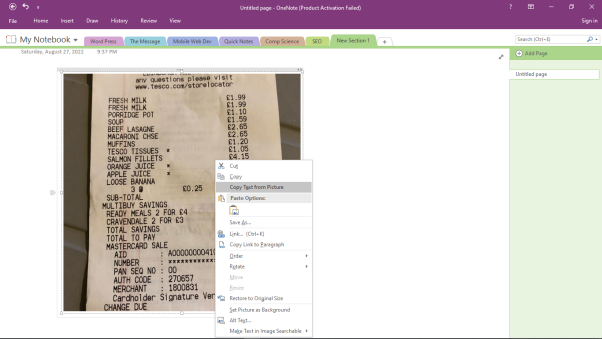 OneNote is a powerful image to text app that comes with a built-in OCR function. The process to convert pictures is very simple as you just need to insert the picture in OneNote and select the "Copy Text from Picture" option to get editable text.
3. Microsoft Word
For many users, Microsoft Word is the default app to convert picture to text. The reason is its fast procedure and the fact that everyone has already installed this program on their PCs.
This method involves a two-fold procedure to extract text from an image. First, you need to save the image file as PDF using MS Word before converting it into the editable text.
Note that Word often distorts the formatting especially if your image file contains tables or graphics. Also, expect a lot of spelling mistakes that need to be corrected manually.
4. Google Docs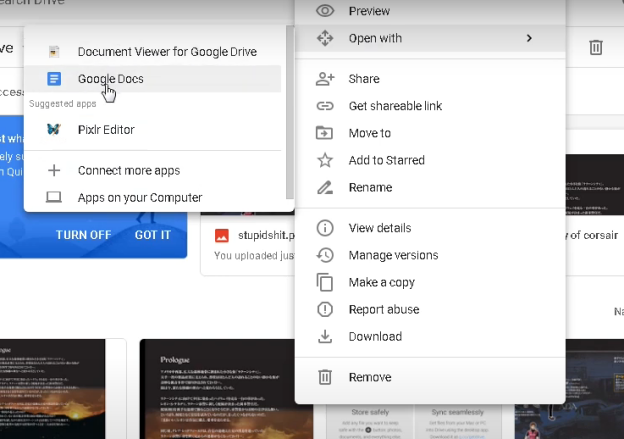 Want to convert image to text online? We have got you covered as Google Docs offer a simple procedure to convert all your images to text. With this online service, you can also convert PDF and other scanned files into editable text.
All you need to do is head to Google Docs, login with your account, and upload the image file you want to convert. The program will start scanning the text soon you "Open it with Google Docs".
The extracted text can be edited or saved either as Word or PDF. Navigate to this website to read more about using Google Docs to OCR an image.
5. Google Lens
One of the key advantages of using Google Lens is it allows you to convert pictures to text in real-time. Just open the picture on your phone or PC, and Google Lens will scan it and extract text for you. Note that google Lens is available in Google Photos for desktop users.
You don't need any internet connection or to install additional plug-in to start the conversion process. In addition, it also lets you translate the extracted text, if it's in any language you're not familiar with.
Wrap up
This article shows that converting pictures to text is no longer a tech-savvy task. Using the aforementioned apps, anyone can extract text from a scanned image and edit or export it as they wish.
While all the apps have a built-in image-to-text conversion feature, they all differ in accuracy and ease of use. If you want the best and most reliable app to convert picture to text, then get PDNob Image to Text Converter.
With its sleek interface, you can easily extract text from as many images as you want in the best possible accuracy.
PDNob Image Translator
Image to Text Converter enables you to accurately extract text from all types of images without storing any picture files into the program.