The majority of the time, using a program that is installed on your computer is a lot better option in order to avoid the hazards and restrictions related to internet tools. Offline Docx to JPG Converter apparently offer stronger performance and functionality. However, making this contrast between online and offline technologies is neither wise nor fair. It is advised to only use offline Docx to JPG converters when you are unable to consider the drawbacks of online options:
Since you must upload and save the file online for a while, using online converters may increase the danger of information leakage.

Online tools need a steady, lag-free Internet connection to function properly.

JPG output quality is somewhat compromised.
You can utilize an offline tool whether you have a Mac or a Windows computer. Many people prefer to convert their Word Docx files into JPG format in order to quickly open and share a file. Here, in an effort to be helpful, are a few quick methods to convert Docx to JPG.
Method 1. Docx to JPG using Microsoft Word
---
Older versions of Microsoft Word may not be able to open Docx files; only Word 2007 and later are compatible. Therefore, you must have Microsoft Word 2007 or later installed on your computer in order to convert Word to JPG using MS Word.
To save your work as an image in Microsoft Word, you must utilize the copy-paste method as JPG is not available under the Save As options. The actions listed below must be followed in order to use this method:
STEP1:

On your computer, find the Docx file that you want to convert to a JPG. To open the document in Microsoft Word, double-click on it. If you want to make sure the file is opened with Microsoft Word, you can right-click the file, choose Open With, then choose Microsoft Word from the list of options.

STEP2:

After the file has opened in Microsoft Word, choose the section of the file you want to convert to JPG. Right-click on this portion when it has been selected, then choose Copy.

STEP3:

To open a new word file, press Ctrl + N on a Windows computer or CMD + N on a Mac. Select the Paste Special option by doing a right-click on the document.

STEP4:

Select Picture from the pasting options. The chosen text will be added to the new document as an image. Right-click the image and choose Save as Picture.

STEP5:

After that, choose the folder where you want to save the picture. Click the Save button to finish.
Method 2. How to convert DOCX to JPG on Mac
---
The Mac operating system includes a tool called Preview that is primarily used to manage PDF and image files. This tool can easily convert Docx to JPG. The tool can open Docx files, therefore you can use it to convert a Docx file to a PDF file, then a PDF file to a JPG file. The steps are listed below for your reference:
STEP1:

On your Mac, find the Docx file you want to convert. Click it with the right mouse button, then select Open With > Preview.

STEP2:

After the file has opened in Preview, choose ,b>Export as PDF from the File menu. Conserve the PDF file.

STEP3:

Use Preview to open the PDF file you saved in step 2.

STEP4:

Select Export under File. Make JPEG your file format of choice.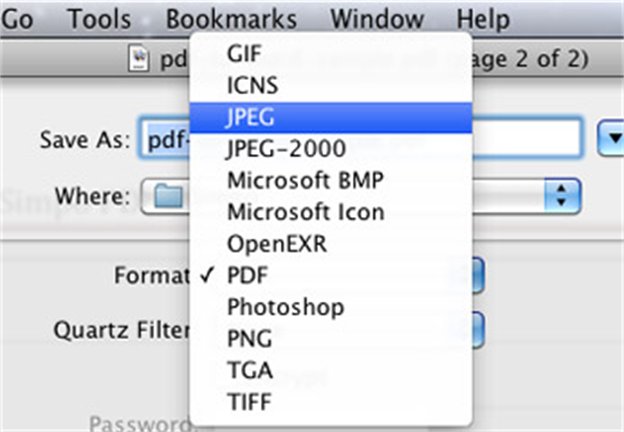 Method 3. Convert docx to jpg windows 10
---
The only application required to convert documents, snipping tool runs on all Windows systems. You can easily convert Docx to JPG with Windows in-built snipping tool.
STEP1:

On your computer, find the Docx file that you want to convert to a JPG and open the file.

STEP2:

Type "Snipping tool" in the Windows search bar and open this tool.

STEP3:

Click the Mode button and select the way you'd like to screenshot the document.

STEP4:

Once it's done, click File on the top-left, select Save As. Choose the saving path and select JPEG. At the end, click Save.
And voilà, the Docx file is converted to JPEG.
Wrap up
---
On Windows and Mac systems, Docx can be converted to JPG. The quality of the JPG file you ultimately have depends depend on the technique you use. Convert Docx to JPG is easily achieved through the above-mentioned 3 methods