Top 10 Apps that Convert Handwriting to Text of 2022
Today, you don't have to re-type your teacher's handwritten notes on a board. Even though writing by hand is common practice, you don't have to scribble down some notes on a piece of paper to keep up with the pace of any speaker.
Technology has made it possible for you can turn your handwriting into beautifully imposed text that is easier to read than deciphering messy cursive, and in the process save lots of time and effort you'd have spent retyping.
We've handpicked a list of the 10 best handwriting to text apps that will convert your handwriting into clean, clear text with a computer or phone. Let's dive in.
Is there an app to convert handwriting to text?
Handwriting to text applications is currently gaining traction. If you had to copy this question into your search engine, you'd be greeted with many links inviting you to check out their apps and services.
These apps use handwriting recognition that enables your computer or devices to understand and interpret handwritten input and transform them into a more legible digital form. Besides, there are PC apps and phone cameras with inserted OCR functions that can recognize handwritings already adopted in digital format. They're often termed, cursive readers.
In this section, we'll walk you through the top 10 apps that convert handwriting to text we've chosen for you. We've divided them into two parts: one for Win/Mac users and the other for iOS/Android users.
Best Handwriting to Text apps [Win/Mac]
---
1. PDNob Image Translator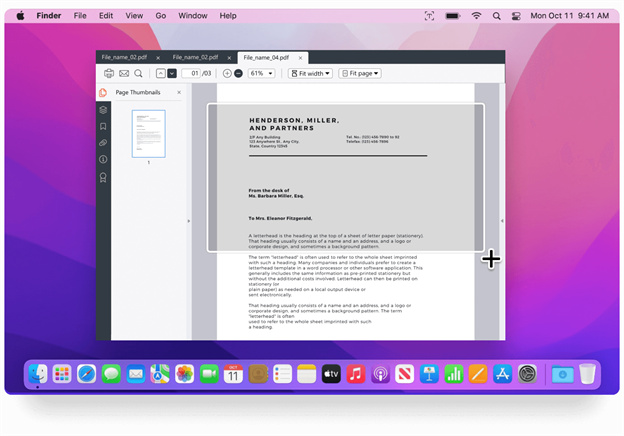 Device: Mac & Win
PDNob Image Translator is an OCR software program used to recognize, scan, capture, and translate handwritten text from scanned documents, PDF, and image files and convert them into digital text in a single click. The app supports and recognizes 8 languages, including simplified and traditional Chinese.
What sets it apart from other handwriting recognition programs is its really fast OCR speed and translation. PDNob Image Translator is compatible with Windows 11/10/8/7 and Mac 12.0 and later.
Extract text from snipping tool
2. OneNote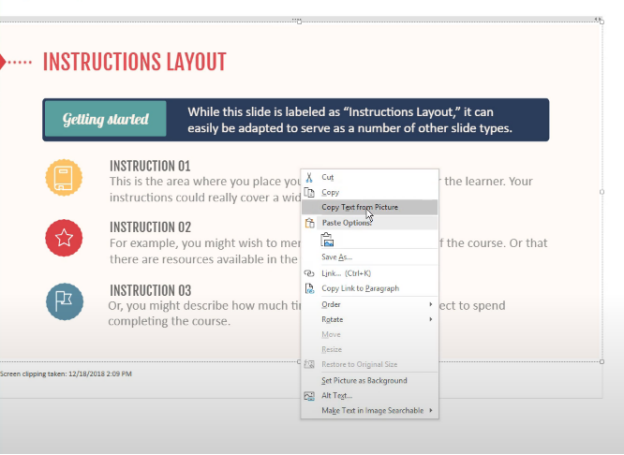 Device: Mac & Win
OneNote is Microsoft's digital notebook and life companion for taking and organizing notes, research, and ideas. You can write notes within the application itself. OneNote has handwriting recognition abilities built-in to let you digitize all your handwritten notes, and drawings, which you can then transcribe into your typed format when you're done.
3. Google Docs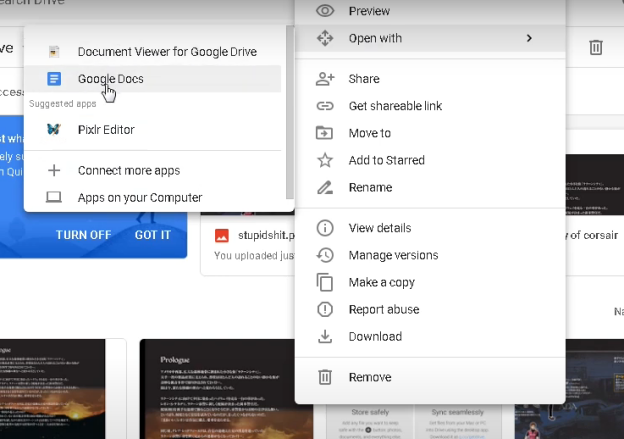 Device: Mac & Win
Google Docs is a web-based application for creating and editing word documents. It complements Google Drive as a free OCR online service where you can easily take your handwritten notes and convert them into text for easy editing and sharing.
Best Handwriting to Text apps for Mobile Devices
---
4. Live Text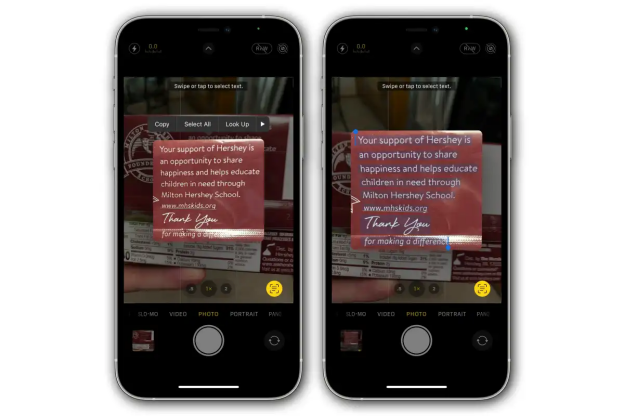 Device: iOS
Live Text is iPhone's native OCR feature used to unlock information, or text captured in images, handwritten notes, and much more. It is found in the Camera app. Let's say you've just finished a meeting with a team, and you want to capture notes from a whiteboard. You must point the camera at the board and hit the Live Text icon at the bottom right corner of your Camera to capture the text.
5. GoodNotes 5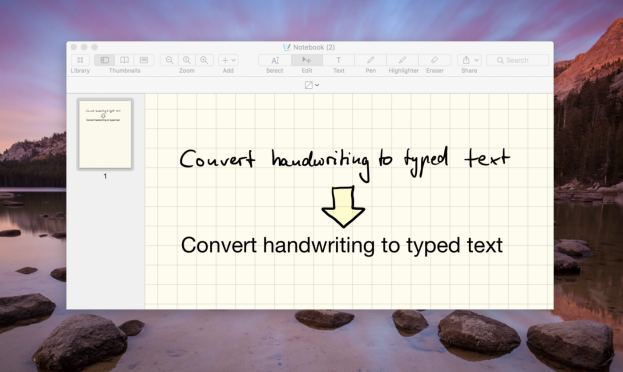 Device: iOS
GoodNotes 5 is a note-taking application designed for iPad, iPhone, and Mac. It is designed with stylus input in mind. All you have to do is to write down your notes on the app, and they will be automatically converted into text. It is also suitable for drawing and illustrations, thanks to handwriting recognition and OCR technology. You can then organize your files or notes in folders that can be automatically saved in iCloud.
6. Notability
Device: iOS
Notability is an application for Mac, iPhone, and iPad that lets you take notes, draw diagrams and annotate images with a text editor. The app also has handwriting recognition technology to create handwritten notes that can be converted into typed text.
7. Pen to Print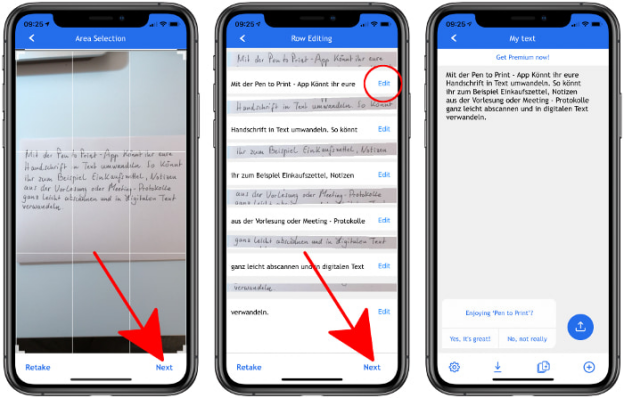 Device: Android
Pen to Print is a cursive reader and text OCR scanner application that works with Android, iPhone, or iPad. You can use this app to recognize, scan, and extract text on paper documents with handwritten notes such as diaries, lecture notes, recipes, and much more and convert them into digital text. Pen to Print only digitizes text written on paper or boards, allowing you to edit them and store them in Cloud services.
8. Evernote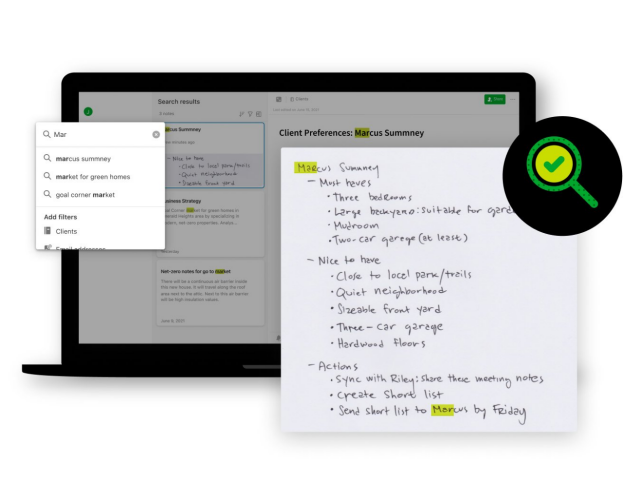 Device: iOS & Android
Evernote is a popular note-taking app, which can be used in handwriting recognition. You can use the Penultimate app to write and input handwritten notes into Evernote's note-taking app, which is available for mobile devices like iPhones, iPad, and Android phones. You can then digitize your handwritten notes by taking a photo of the physical note with your mobile device's camera. Evernote will do the OCR job for you to convert your physical handwritten notes into digital text.
9. CamScanner
Device: iOS & Android
CamScanner is an OCR app that recognizes, scan, and extract text from images to create digital files in a variety of formats. It supports business card scanning as well as document scanning. Future enhancements will allow CamScanner to recognize and digitize handwritten notes and sketches. One can then easily add the digitized notes to other apps like Notes or Evernote for further editing and sharing.
10. Text Scanner
Device: iOS & Android
Text Scanner is an app that converts handwriting to text which can be used to digitize your handwritten notes and convert them into digital text. All you have to do is point the camera at the note you've written and the app will automatically recognize and digitize it. Thanks to this feature, you can simply take pictures of your handwritten notes to keep a digital record.
Best handwriting to text app
---
There is many handwriting to text apps. And handwriting recognition is becoming a norm these days, and it's bound to become popular in the future for its convenience and efficiency as an alternative input method. We've chosen the best ones for you based on the ease of use and features of each one.
Try out PDNob Image Translator: One-Click Capture, Recognize and Translate Text from Images & PDF. It's fast, reliable, versatile, and easy to use. Plus, it tops our list of the best handwriting recognition apps for Windows and Mac users.
PDNob Image Translator
Screenshot to Text Converter allows you to take up to 100 screenshots at a time and convert screenshot to text instantly.