i2OCR Review and its Top Alternative
i2OCR is a free, reliable, and simple web-based OCR software. i2OCR is used to extract text from it's been praised for its reliability and ease of use that it offers. Despite this, it does not come without flaws.
In this article, we will review i2OCR converter and its top alternative, as well as discuss the benefits of each application. We will also provide a simple analysis of i2OCR's features, including OCR accuracy, interface design, and scanning speed in order to help you decide which OCR software would be best for your needs.
What is i2OCR?
When you visit www.i2ocr.com, at first glance, it has an overly simple interface design. Well, it isn't aesthetically beautiful but, when you get to use it, you will love the simplicity of its interface.
The interface design is intuitive with a guide to walk you through how to use i2OCR and get quick results. Besides being free, no email or registration is required to log in and use i2OCR converter. Simply, go to www.i2ocr.com and follow these simple steps to OCR scan your images and i2ocr PDF to Word.
i2OCR is capable of image and PDF OCR scan only.
Select your language. i2OCR makes it comfortable for users to select their OCR language, for example, i2OCR english and i2OCR español. What you get is a vast array of languages, such as English, Spanish, German, and more. For this post, we'll use English.

Select image/PDF. You'll have two options: file or URL. The file allows you to upload an image or PDF from your PC. URL lets you type in the URL of an image or PDF and hit Enter to extract an image or PDF from it. We'll use an image for this guide.

Extract text. You'll see a simple button to Extract Text from an image. That's it.
The extracted text will appear in the i2OCR text editor where you can translate, edit, or copy text. One of the features you'll find interesting is i2OCR's ability to edit extracted text online in Google Docs.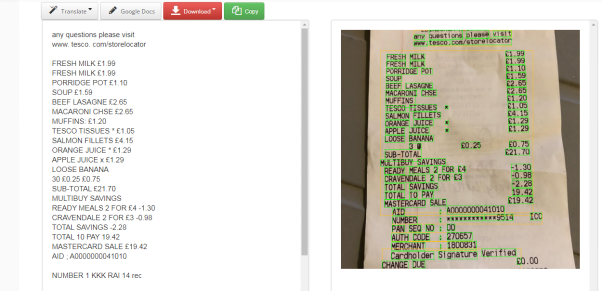 With PDF files, it's a little different. You'll have to click PDF to image which first converts a PDF to an image file.
You'll have two options. You can either Download Text i2OCR found in the PDF. If you find the OCR result isn't satisfying, which i2OCR admits to, you can click the Extract Page Text to grab text from the image of a PDF file.
i2OCR features and their benefits
100% free – which means you can OCR an unlimited number of images and PDFs.
i2OCR support major image formats: jpg, png, BMP, tiff, PBM, PGM, ppm.
Your extracted text can be downloaded or saved as .txt in MS Word, a simple Adobe PDF, or an HTML file.
Auto batch OCR – to scan a high volume of scanned images and PDF documents.
>What multi-column document analysis does is it allows you to scan and extract text from documents with a table/column layout.
Side-by-side view enables you to display and compare extracted text and its corresponding image/PDF side by side to identify misrecognized words.
What you'll notice when you're using i2OCR
Although multi-column document analysis does the job, it doesn't retain any original document format.
OCR scanning speed is fast for a single image or a single-paged PDF. However, when it comes to batch OCR, it tends to be slow, especially in 'complex' or lengthy image and PDF files.
OCR accuracy is higher for images or PDFs with a little text. For the highest accuracy, you'll need high res scan images.
Where i2OCR.com fails, we found that their top alternative, PDNob Image Translator, far exceeds i2OCR's abilities. Also, it performs much better than i2OCR.com when scanning PDF files with several table layouts.
i2OCR Top Alternative
PDNob Image Translator does share some features with i2OCR like a simple user interface, and it's also free.
However, what sets PDNob Image Translator above i2OCR is that PDNob Image Translator is built for speed and accuracy across all types of files. All you need to do is download and install it, after which you'll need to press a simple hotkey and quickly access, translate, and copy text from images and PDFs.
Here's a short comparison table for both OCR tools
| | PDNob Image Translator | i2OCR.com |
| --- | --- | --- |
| Service user type | Non-web-based application | Web-based application |
| Accuracy | Accurate | Fairly accurate. Accuracy depends on the quality of how complex the file is and the resolution of scanned files. |
| OCR speed | Fast. Press hotkey and perform a scan. | Medium. You need to upload files to OCR. |
| Batch OCR | Yes | Yes |
i2OCR's Top Free Alternative
So, with all these in mind, how do we OCR with PDNob Image Translator?
Press Ctrl + Alt + Z (for Windows users) or Command + 1 (for Mac devices) to activate the screenshot function. Hold your mouse and drag the screenshot tool over the picture to select the area of the text you want to OCR. Release your mouse to start an OCR.

Your extracted text will appear on a PDNob's editor. Click the Copy icon to save your text to a clipboard.
You can also click the translate icon to translate your text to other languages.
Benefits of using PDNob Image Translator
PDNob is not only a screenshot OCR tool. You can also upload images or PDF files from different storage devices, in batches, and have them scanned.
PDNob is versatile. You can OCR images anywhere on your computer. You can also OCR images, and PDFs in all file formats, unlike i2OCR. OCR is also possible in videos, web pages, comics, and more.
The translation is instant. You don't need third part services like Bing as seen in i2OCR.
Batch OCR is exceedingly fast than i2OCR.
Wrap Up
i2OCR is a nice option to consider when you want to OCR from images and PDF, especially if you need a free platform. However, the added and/or improved features in PDNob Image Translator make it a powerful solution for a fast, accurate OCR scan, and automatic translation of extracted text in images and PDFs. Plus, with PDNob Image Translator, you're not limited to any file format.
PDNob Image Translator
Screenshot to Text Converter allows you to take up to 100 screenshots at a time and convert screenshot to text instantly.